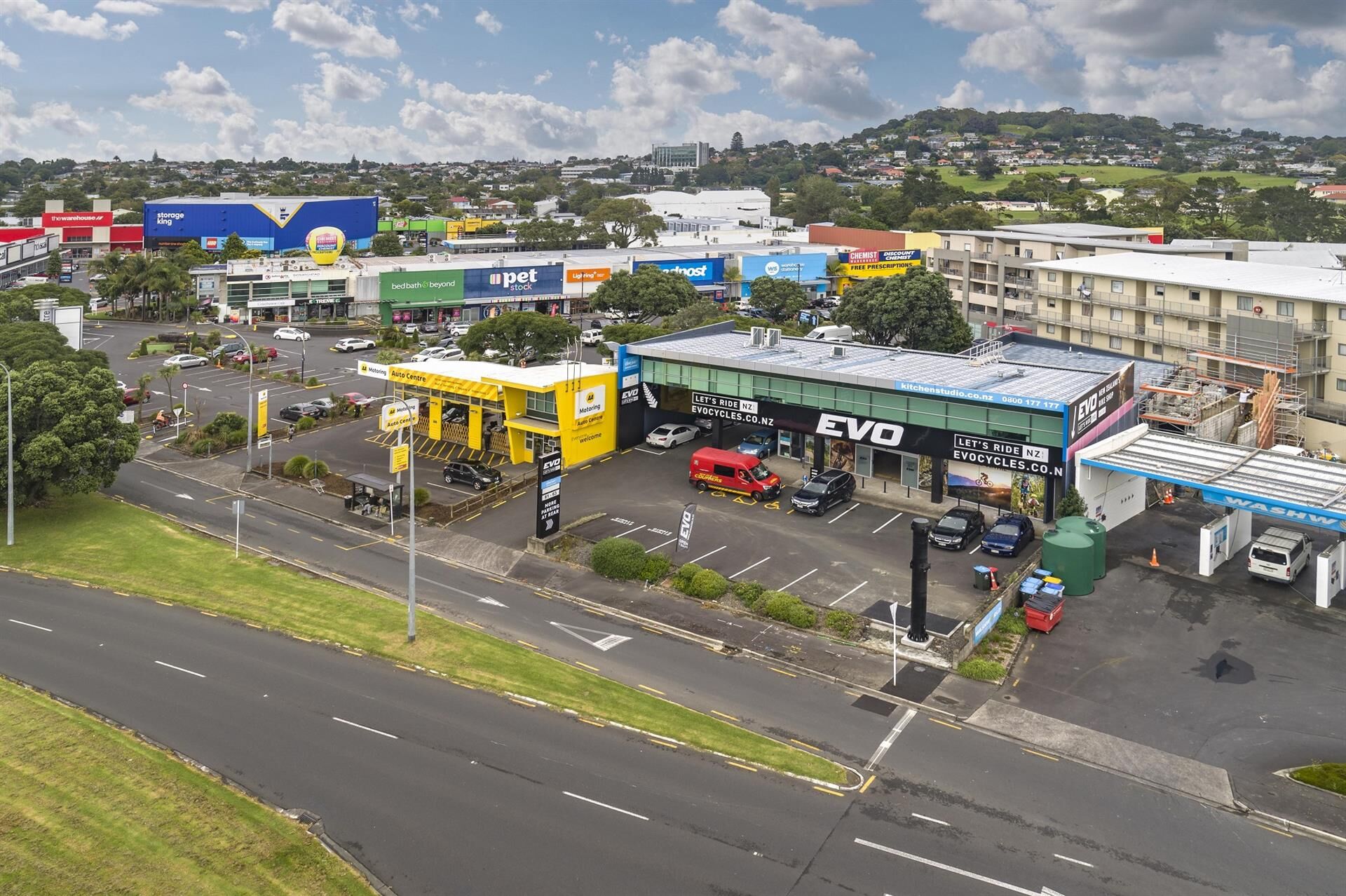 The freehold property at 61-63 St Lukes Road is located directly opposite Westfield St Lukes, and is being sold to free up capital so the proactive vendor can pursue other larger projects.
Zoned Business-Mixed Use, this is a well-performing property with the two upper-level office tenants having been on-site for around 25 years, and ground-floor retailers Evo Cycles trading well from its retail premises since opening last September.
Additionally, the vendor recently secured outdoor ad company Lumo on a long-term lease for an electronic billboard on the northwestern corner of the site.
The property returns net annual income of $425,612 plus GST, with varying lease terms and renewals out to 2028-2033.
The 1,593sqm site has extensive frontage to St Lukes Road, with sealed carparking to the front and drive-through access to additional parking at the rear.
Built in 1997, the modern, purpose-built, retail and office building is L-shaped with the component fronting St Lukes Road being two levels and having excellent profile, and the rear portion, single-level.
The total floor area is 765.90sqm and there are 28 sealed car parks.
The entire ground floor and the rear part of the building are occupied by Evo Cycles, an established New Zealand family-owned company with 32 showrooms around the country.
Upstairs is split into two office tenancies occupied by long-standing tenants kitchen designers Kitchen Studio, and chartered accountants, Michael Prasad Group.
Grant Magill, Alan Haydock, and Ken Hu of Bayleys Auckland are marketing the property by tender, closing 4 pm, Wednesday 12th April, unless sold prior.
Magill said private investors or family trusts are the likely buyer groups, with the straightforward property having been well-maintained and at 86 percent NBS.
"The substantial income and lengthy leases make this a simple investment in an undeniably strong suburban location with a growing catchment," he said.
"With the recent addition of the electronic billboard tenant, the returns have been strengthened further and income is what banks are seeking in the current climate when finance is required.
"The underlying value of the site is also relevant here, with the St Lukes pocket very tightly-held and decent-sized sites in demand."
St Lukes is the retail/service lynchpin of the western suburbs' catchment which includes Mt Albert, Morningside, and Kingsland.
Magill said with Westfield St Lukes across the road from the subject property, and the St Lukes Mega Centre directly behind it, there's not a lot of opportunity for future retail development in the immediate precinct which amplifies the appeal of the property.
"There has been a significant residential intensification in the broader catchment which makes this a strategic investment opportunity, particularly given the Business-Mixed Use zoning which allows development up to 18 metres.
"The property's proximity to transport links and amenities, and the fact that it has a strong past leasing history, also works in its favour."