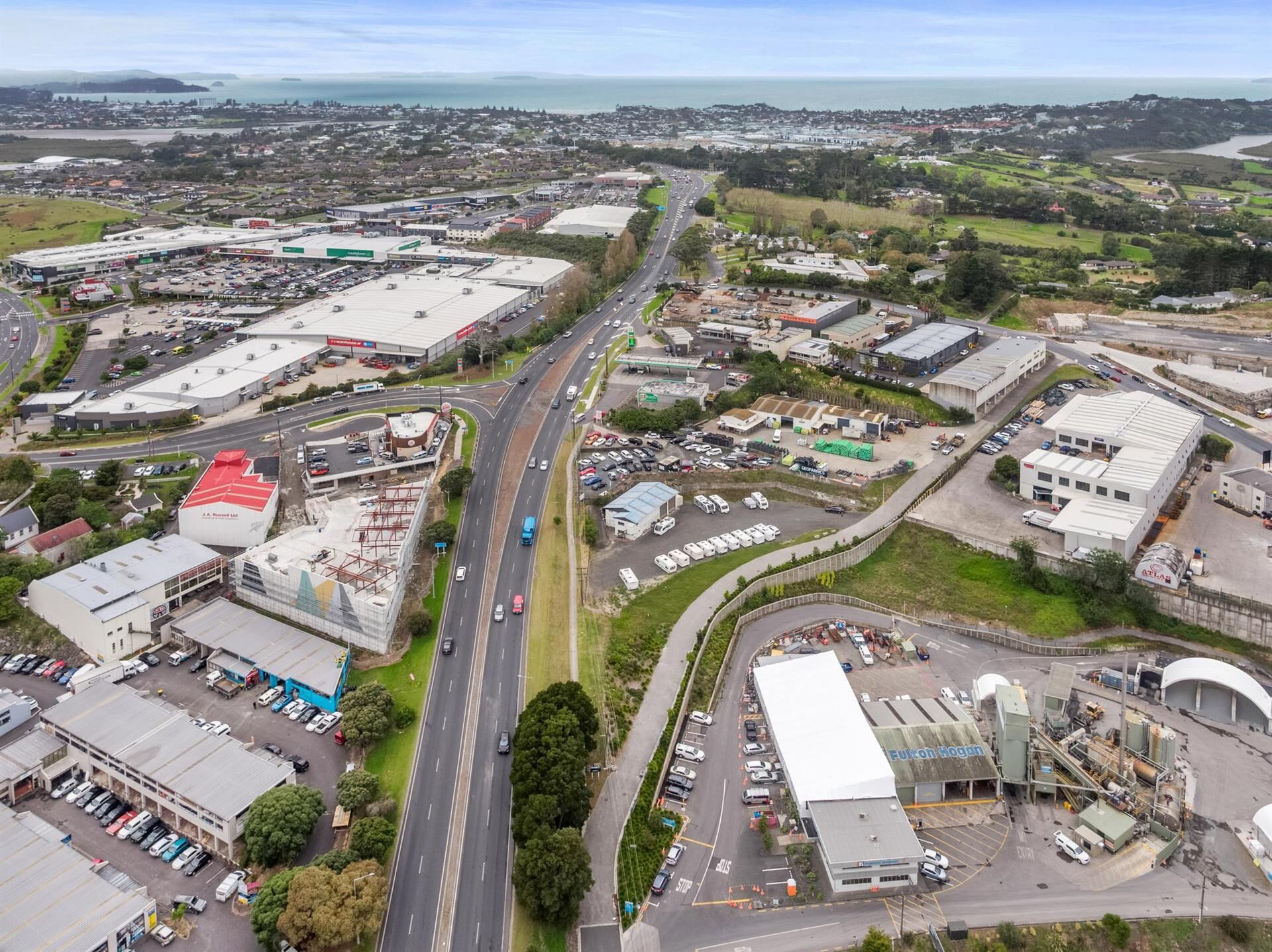 Two adjoining freehold sites, with a combined area of 11,140sqm and located metres from Silverdale's nucleus, will be sold as one lot as its current owner, Titan Land Holdings Limited, progresses projects elsewhere in the region.
The properties at 6 Titan Place and 44 Flexman Place lie within Silverdale's industrial estate and are zoned Business - Light Industry.
There are three tenants in place on relatively short lease terms, each with break clauses in their agreements giving flexibility for a new owner.
Configured with a mix of metaled and concrete yard space and some small buildings, the properties work well for the occupiers – a car yard, a geofabrics company and an equipment hire business.
Matt Mimmack, Bayleys North Shore Commercial and Ben Clare, Bayleys Silverdale, are heading the tender campaign which closes Thursday 26th May.
As one of Auckland's fastest growing areas with significant residential and commercial development taking place, Silverdale is no longer viewed as a satellite hub and has effectively been absorbed into the greater Auckland catchment, according to Mimmack.
"The landholding is close to motorway on and off ramps and, at around 30 minutes' drive time to the CBD, it's well-located for occupiers," he said.
"For investors, the appeal of this site lies in the fact that there is net annual income of $308,696 which provides valuable holding income for developers or land-bankers."
"There are break clauses built-in to the existing leases giving wiggle room should a new owner be looking to redevelop the site, or if an owner-occupier needs to buy time to firm up relocation plans."
Mimmack said the size and location of the properties for sale will appeal to owner-occupiers looking for hard-to-find yard space.
"It's become increasing difficult to find well-located and accessible industrial sites that have expansive yard areas.
"With the rapid growth and demand for logistics and warehousing, most developable industrial-zoned land tends to be fairly intensely developed with only the necessary loading/turning space required for an efficient operation.
"That leaves the more gritty, traditional industrial occupiers out on a limb as there simply isn't available property to accommodate containers, or, as with the current occupiers of the Silverdale property, car yards and equipment hire operations."
Clare said if the recent sale of industrial sites in Tavern Road, Silverdale by Bayleys is anything to go by, the buyer appetite for this smaller offering will be robust.
"The location stacks up for many different industrial users, be that for the type of business use currently entrenched on-site – or for a redeveloped industrial option.
"There's streamlined access off either Flexman Place or via a private right of way from Titan Place, and good exposure to more than 30,000 passing vehicles daily along the busy Hibiscus Coast Highway from parts of the site.
"If elevated buildings were to be developed on the Titan Place title, this profile would be further enhanced."
The rectangular-shaped site at 6 Titan Place is 5,726sqm with two supporting workshop structures and an office building, with the main occupier being Geofabrics New Zealand Limited.
The irregular-shaped site at 44 Flexman Place is 5,414sqm with 228sqm of buildings and is mostly occupied by Clouth Investments Limited, operating as a hire business.
Car yard Motive Trading Limited operates across parts of both properties, with extensive profile to Hibiscus Coast Highway.