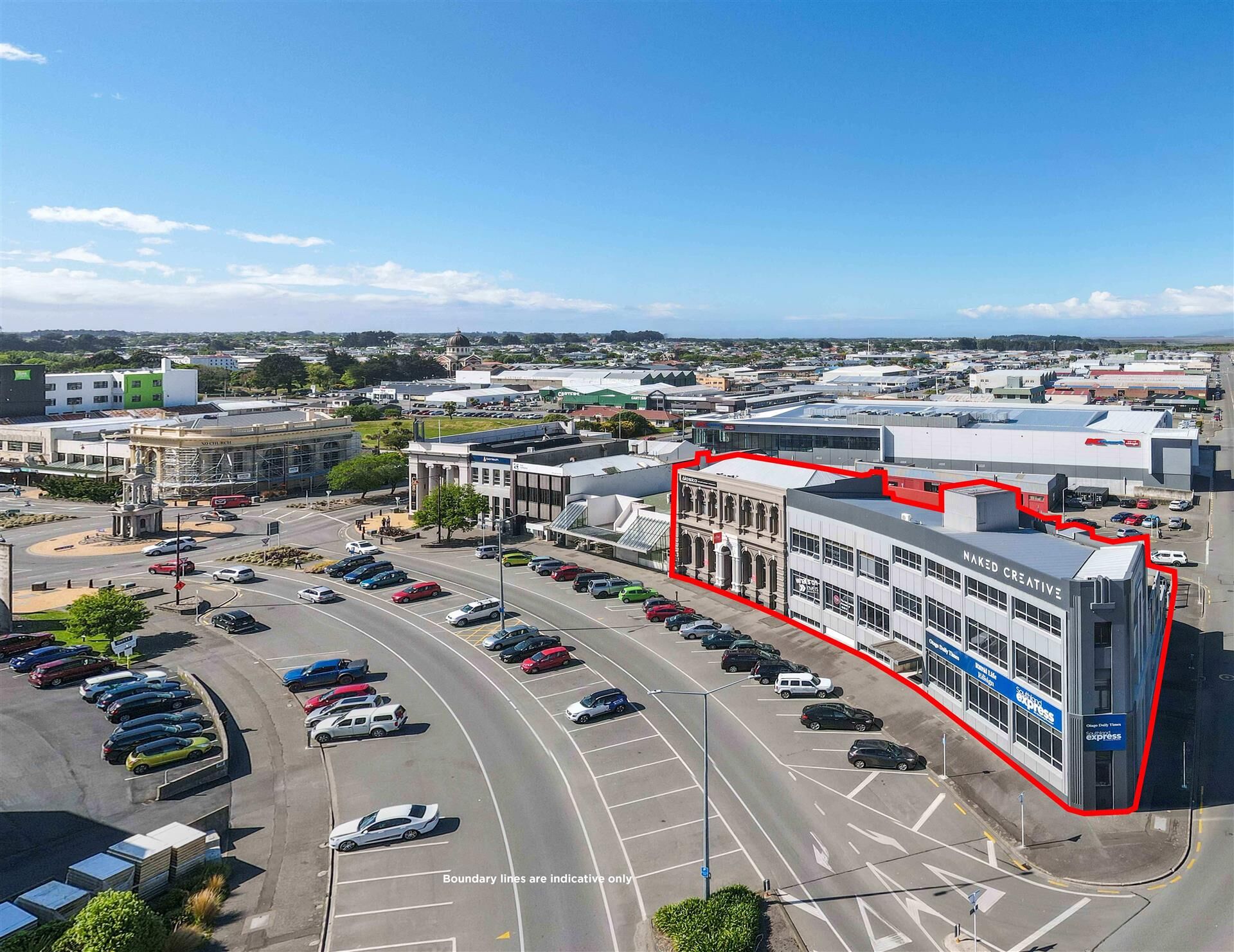 The property at 5-11 The Crescent is positioned on a prime corner site at the western end of Tay Street.
It is around 100-metres away from the new Invercargill Central mall development, with Kmart immediately to the south, and Distinction Hotels currently redeveloping the Menzies Building into a 150 room 4.5 star hotel directly to the north.
The flat site is 1,598sqm and there is approximately 1,770sqm of building floor area, with 26 tenants on varying lease terms across the Commercial Business 1 zoned-property, where the five largest occupiers provide 60 percent of the net annual income of $215,310 plus GST.
Along with multiple office tenancies, on-site tenant car parking and storage, the property is home to popular restaurant Indian at The Crescent which occupies the ground floor of the heritage building that was originally built for New Zealand Loan And Mercantile Agency.
Featuring a Victorian Classical frontage with rows of arched windows and an entrance porch with decorative columns, this is one of just a few original buildings remaining along The Crescent today.
The property as a whole has an engineers-assessed seismic rating of 72-79 percent new building standard.
It is for sale by negotiation through Michael Frecklington, Bayleys Invercargill who said the property has been a long-term hold for its intergenerational family owners and offers upside for investors and developers.
"As Invercargill evolves and continues to diversify from its traditional rural foundations, there's likely to be more repositioning of commercial buildings in the city to better and higher use," he said.
"We're seeing this elsewhere in the CBD with the mid-century modernist Menzies building in Esk Street being converted to a new Distinction Hotel, for example.
"While the owners of the subject property for sale in The Crescent have attended to repairs and maintenance and the building presents in very good condition, there's definitely redevelopment potential either by way of internal reconfiguration within the existing footprint or potential conversion with due council process explored."
Frecklington said New Zealand's southern-most city is coming of age and as an Auckland expat, he's impressed with the sophistication and innovation at play both in the CBD, and the wider region.
"While Invercargill is still an agri-service town that feeds off its rural fundamentals, the diversity of business and initiatives to bolster the region's economic and social fibre is exciting."
"The building blocks are all there for regeneration and growth of the city, with great progress being made in the CBD where proactive council initiatives to improve functionality and public amenities are well-advanced.
"I feel in national terms, commercial and industrial property in Invercargill has perhaps been undervalued by investors in the past.
"However, we're seeing investment appetites change and greater interest being shown with the lead being set by the likes of property and construction firm Calder Stewart that recently acquired a 513ha block of land on Invercargill's fringe at Awarua saying the site could be a flagship for economic development in the south."
Emerging and startup industries in Southland include an oat milk factory, potentially the world's largest green hydrogen plant, a carbon-neutral hyper-scale data centre on a 43-hectare site at Makarewa about 12 kilometres north of Invercargill, and a trail-blazing 3D printing company.
Click here for more information on the listing.