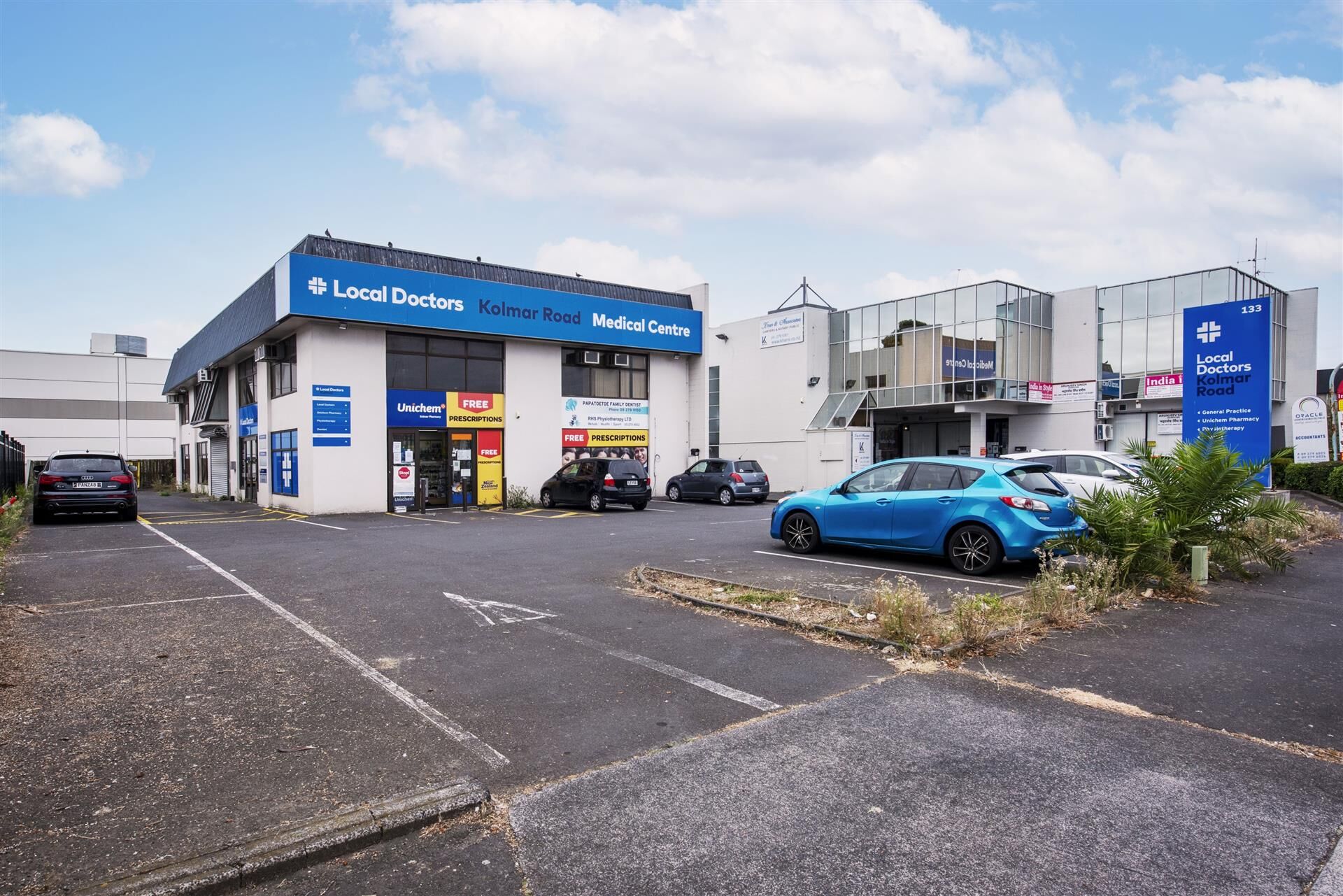 The two-storey freehold property sits beside the busy Hunters Plaza Shopping Centre in the heart of fast-growing Papatoetoe. The building's ground floor has been home to a popular medical centre servicing a wide South Auckland catchment since 2016.
Combined with a vendor leaseback of the first floor of the Kolmar Road property, this opportunity will provide new owners with a total net annual return of $176,878 plus GST and outgoings.
The Local Doctors Kolmar Road facility offers family doctors, physiotherapy and dental practices, as well as a pharmacy. Along with its sister White Cross Urgent Care centres, the Local Doctors chain forms part of Tamaki Healthcare.
Since its beginnings 45 years ago, Tamaki has grown into a group with nearly 50 clinics from Whangarei to Christchurch, making it New Zealand's largest independently owned primary healthcare group.
Local Doctors is the biggest provider of Pasifika primary healthcare in South Auckland with the Kolmar Road team members speaking English, Punjabi and Hindi, catering to Papatoetoe's unofficial status as Auckland's "Little India" – with 40 percent of the population being of Indian ethnicity according to Statistics NZ.
Local Doctors pays an annual net rental of $126,878 plus GST and outgoings, on a lease that runs through to 2026 with an additional two rights of renewal of six years each. The lease includes two-yearly rental increases of a minimum of 2.5 percent or to CPI, whichever is higher.
An accompanying three-year vendor leaseback of the first floor will generate a rental income of $50,000 plus GST and outgoings per annum.
The freehold land and building at 133 Kolmar Road, Papatoetoe, Auckland, is being marketed for sale by negotiation, through Tony Chaudhary, Gaurav Minhas and Amy Weng of Bayleys South Auckland.
Chaudhary said the standalone two-storey building had a net lettable area of some 588 square metres, on an 880-square metre site.
"The approximately 287-square metre ground-floor medical centre encompasses numerous examination rooms, along with a waiting room and reception, office and storage areas, plus kitchen and restroom amenities.
"The vendor leaseback area spanning the first floor offers a versatile mix of spaces, with two substantial open-plan areas plus smaller rooms and restroom amenities. With a total floor area of some 301 square metres, it will be suitable for a wide variety of future tenants," said Chaudhary.
Minhas said the site had 18 on-site car parks and benefited from prominent frontage to busy Kolmar Road.
"The property is accessed via Kolmar Road, off Great South Road – a main arterial running through South Auckland.
"It is zoned Business – Town Centre under Auckland's unitary plan. Generally targeted at centres on main arterial roads with good public transport, this zone is designed to provide a focus for commercial activities and growth.
"It enables wide-ranging activities, from commercial and residential to leisure, tourist, cultural and community services. At the Kolmar Road site, it allows for buildings up to 18 metres high," said Minhas.
Weng said the site for sale benefited from its location within the Hunters Corner commercial precinct, alongside the Hunters Plaza Shopping Centre.
"With more than 40 stores, including Countdown, Kmart, Chemist Warehouse, Postie Plus and CityFitness Gym, plus speciality stores and food outlets, Hunters Plaza pulls a lot of customers into the Papatoetoe town centre from surrounding areas.
"The wider town centre is home to further national and international brands such as ANZ, Westpac and ASB banks, McDonald's, KFC as well as Mobil and Z service stations.
"As such, the Kolmar Road property is in a prime position to serve the neighbouring residential and commercial catchments. It is centrally located to public transport networks and motorway systems, being around 25 minutes' drive from Auckland's CBD and 10 minutes from central Manukau," said Weng.
Papatoetoe is the largest suburb in Auckland by population, according to Statistics NZ. Its population stood at over 43,000 at the 2018 census, an increase of more than 27 percent since 2006.
Click here for more information on the listing.