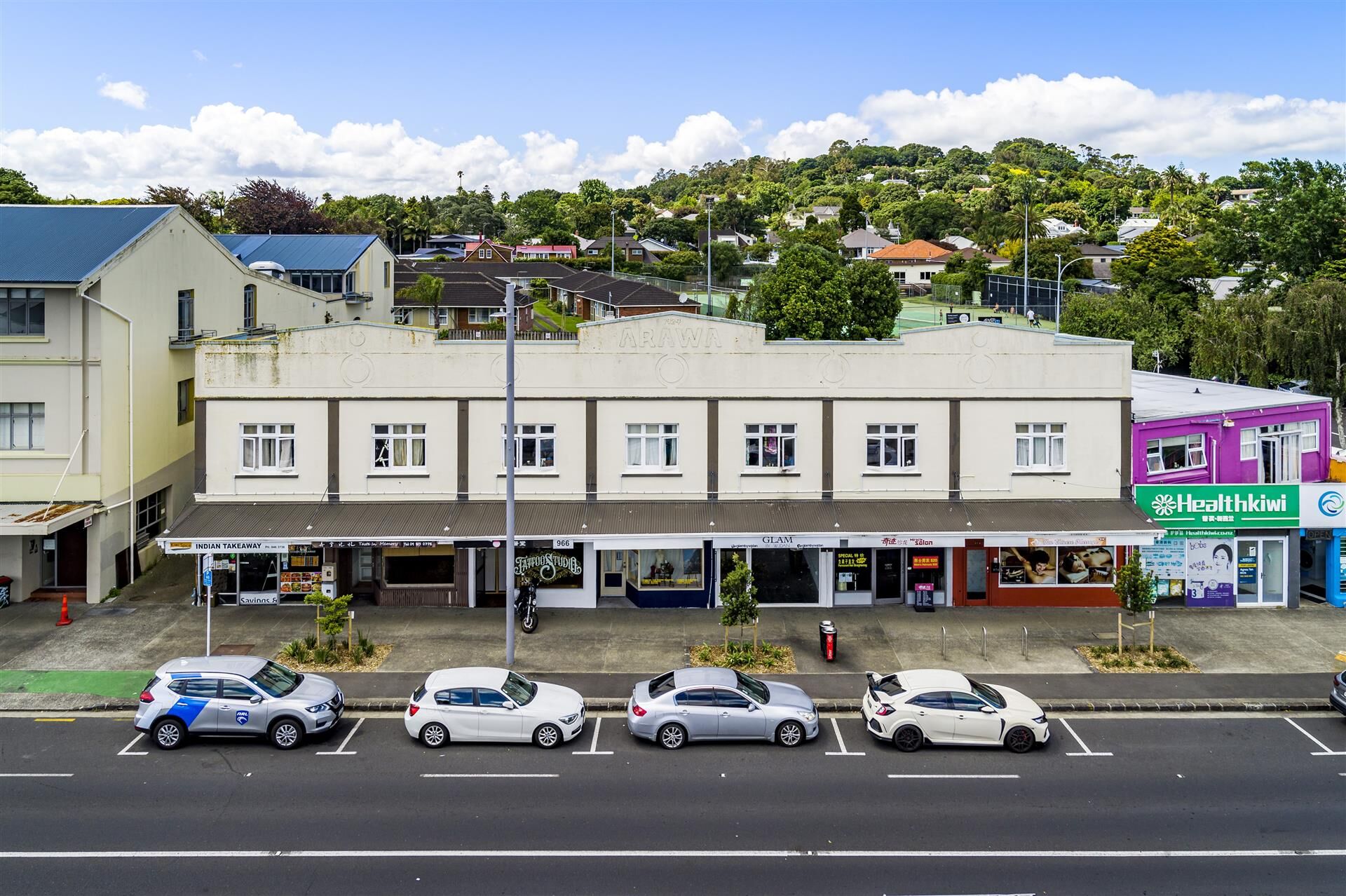 A mixed-use premises in a vibrant city-fringe locale offers a significant development opportunity for a new owner to leverage zoning fundamentals and strong planned investment while collecting holding income.
The 974sqm (more or less) site at 962-974 New North Road is underpinned by favourable Business – Town Centre zoning, which permits intensive mixed-use development to 18 metres.
Bayleys Auckland City & Fringe team director Alan Haydock says the site's excellent proximity to public transport links and amenities in an evolving locale is further bolstered by current occupancy and the opportunity to add value through refurbishment or redevelopment.
"The key value proposition is the large, freehold landholding, which provides vast future upside through either a partial or complete redevelopment, and an intensive allowable build height accommodating a mix of residential or commercial development under the Unitary Plan zoning.
"Further appeal is offered by a strategic location in the Mount Albert retail village – across the road from the Mount Albert train station.
"This is strengthened by the area expecting the completion of 4,000 new homes at the old Unitec Mount Albert campus a short distance from the subject property and presents an inimitable opportunity to leverage a period of extremely high growth for the suburb."
Haydock is marketing the property for sale with Bayleys City & Fringe associate director Damien Bullick.
The property is offered for sale by tender, closing at 4:00 pm on Tuesday, 14th March 2023 (unless sold prior).
Totalling 628sqm (more or less), the premises features seven retail shops at ground level, and residential tenancies above.
Five retail units are currently tenanted, providing a holding income of circa $100,000 per annum from occupants with varying lease arrangements, including an Indian takeaway shop, tattoo studio, seamstress and salon.
The property, dubbed the 'Arawa' building for its character façade, was built around 1924.
Bayleys salesperson Damien Bullick says the existing character improvements provide a workable footprint for add-value investors and land bankers to collect income whilst looking to the future to capitalise on intensive development features of the local area.
"There is potential to add immediate value through strengthening or refurbishment works, bolster occupancy, and attract a healthy split-risk cash flow from the existing character improvements and large car park.
"Alternatively, the Government's National Policy Statement on Urban Development has emphasised mixed-use, particularly, residential development in key transport hubs.
"The subject property is less than 100 metres away from the busy Mount Albert train interchange. Therefore, it possesses a natural pedigree with significant value uplift for a developer mobilised to maximise the location.
"While the suburb currently provides for a mix of housing options, the majority of housing supply is standalone with a relatively high median house price compared to other suburbs across the city.
"Given the desirable fringe location, there is strong demand for more diverse housing options, which supports the existing development fundamentals for the site as intensive mixed-use development/apartments," Bullick says.
Over the next 15 years, a new urban village of 4,000 new homes will be built on close to four hectares of land next to the Unitec campus in Mount Albert.
The 'Carrington' residential development, named for the main thoroughfare through the area, is expected to deliver significant benefit to local landowners, with a higher demand for rental properties as local job opportunities evolve, and the creation of new homes lifts the local economy.
"The new owner of 962-974 New North Road stands to capture upside from investment into local infrastructure upgrades, including improving roading networks, public transport, and civic facilities.
"Significant works are already underway to improve road access, utilities, storm, waste, and potable water, while improved cycling and pedestrian routes will contribute to the broader Mount Albert area as a superbly liveable city-fringe community," Bullick says.
Click here for more information on the listing.