With Bayleys having just released the 30th edition of its flagship Waterfront magazine, in its 50th year in the real estate industry, there's an interesting parallel between the latest glossy magazine and the more modest portfolio of waterfront properties back in 1993.
Both publications showcase a private Hauraki Gulf island for sale, sparking readers' imaginations and bringing a raft of enquiry.
Circa-15ha Moturekareka Island was purchased by the Crown following the Bayleys campaign in 1993 and then gazetted as a scenic reserve in 1996, coming under the auspices of the Department of Conservation.
Fast forward several decades, and the neighbouring 23.87ha freehold Motuketekete Island is profiled for sale in the latest edition of Waterfront as the family that has privately owned it since 1907 acknowledge it's time to move on from idyllic island bolthole.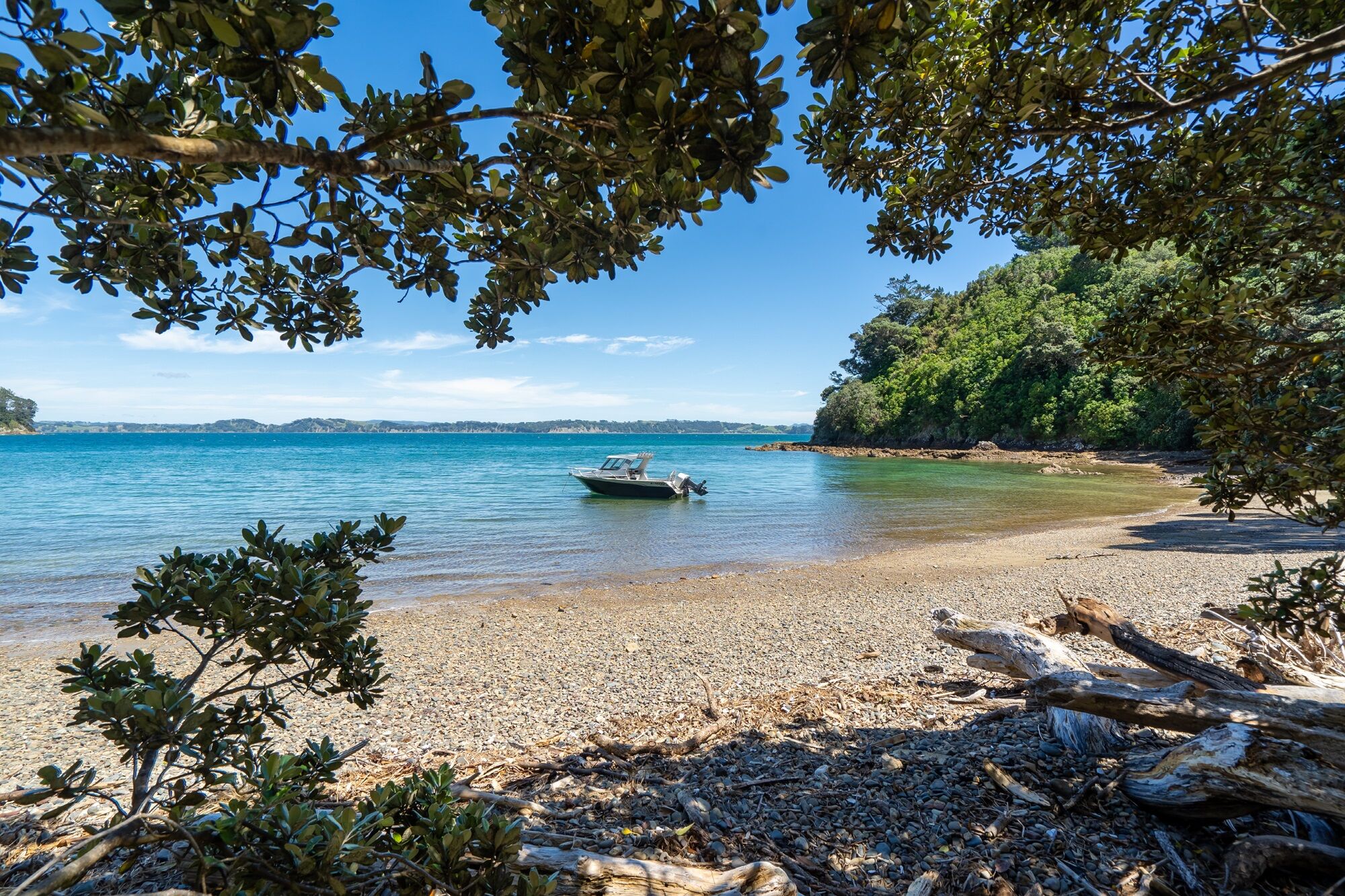 Bayleys salespeople John Greenwood, Paula Bennett and Kellie Bissett are marketing Motuketekete for sale by negotiation, and while there's been unprecedented interest – the right buyer has not yet come forward.
"With summer approaching, now is the time for genuinely motivated buyers to get in touch with us to arrange a visit to really appreciate what's on offer," says Greenwood.
"Globally, very few people get to own an entire island so this opportunity – literally on Auckland's doorstep – is rare to say the least."
Motuketekete is 4km southwest of Kawau Island and 42km as the seagull flies from the Auckland CBD.
That's less than an hour by private launch from Westhaven marina, a quick helicopter flight from the city or Albany, or 30 minutes' by water taxi from Sandspit on the Mahurangi Peninsula.
The only dwelling on Motuketekete is a humble, unpretentious Kiwi bach on a flat site at the water's edge of Home Bay, one of three secluded beaches on the island and the northern of the property's two west bays.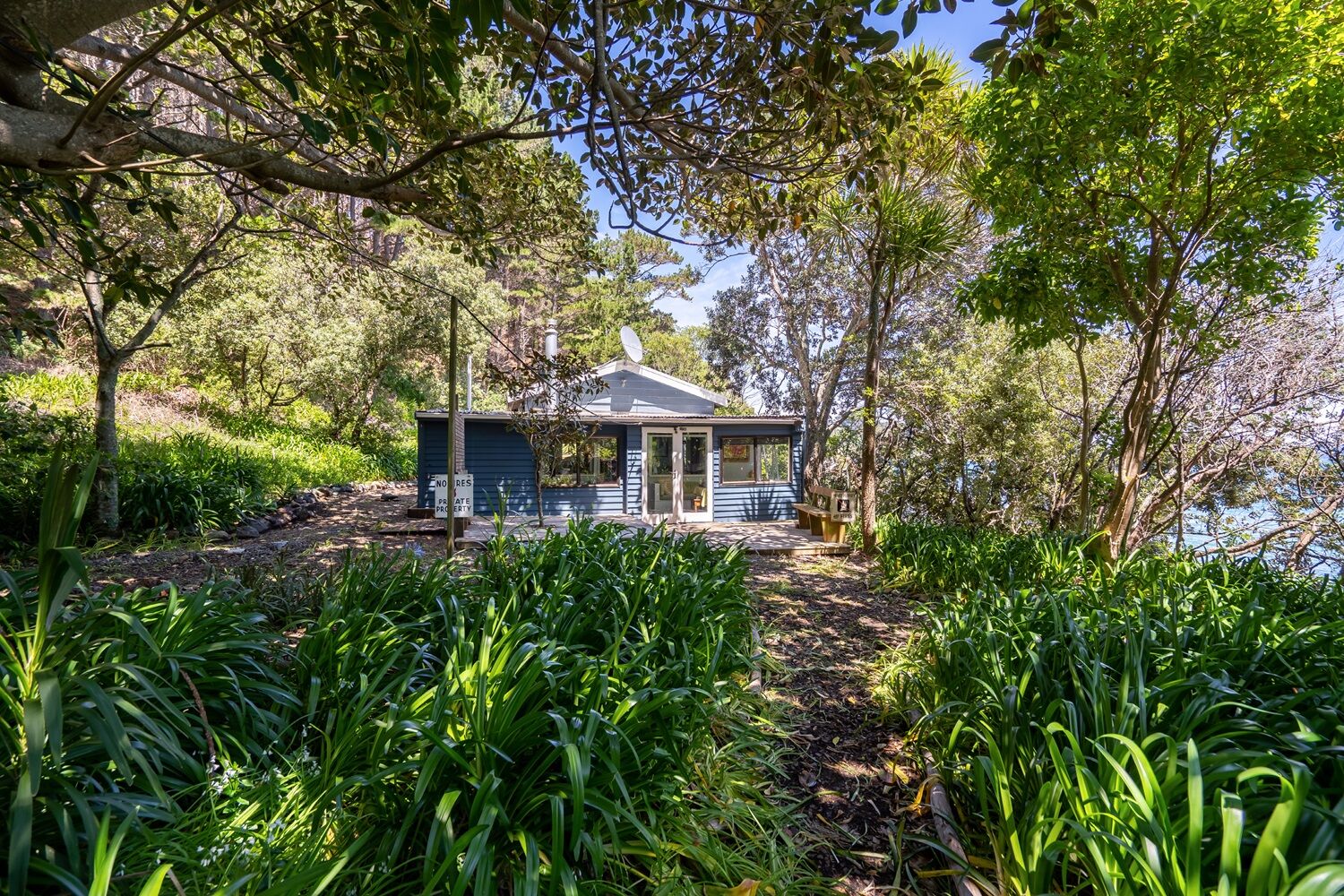 The bach is generator-powered with hot and cold water, indoor bathroom facilities, plus a kitchen and sleeping areas.
The land comprises rolling to steeper coastal ridges and gullies with outstanding sea views over the Gulf taking in Rangitoto Island and Whangaparaoa to the south, Great Barrier Island to the east, Kawau Island and the Tāwharanui Peninsula to the north, and Martins Bay on the mainland to the west.
It is predominately planted in pine with the remainder in regenerating native bush, and a number of committed pest control programmes in recent years have encouraged native birdlife on the Island, with 23 species of birds noted during a 2014 survey by Auckland War Memorial Museum botanists.
Bennett says Motuketekete is "all your wildest island dreams come true" and is the pinnacle of waterfront property.
"The vendors have absolutely cherished the time they've spent here together, with friends and in solitude and while it's bitter-sweet to be selling, the island is ready to be passed to new custodians to enjoy and create life-long memories."
With a flat area of around 4,000sqm, which Greenwood says could be cleared of bush and scrub to accommodate a helicopter pad and additional dwellings, there are multiple options for a prospective purchaser to consider.
"If a new home or homes were built, the existing bach could be retained as a caretaker's base.
"The obvious buyer would be a well-resourced Aucklander wanting an exclusive retreat with a timely pathway from the city, however a group of families could also look at purchasing the island together and working out a way to share it.
"Given the country's tight restrictions for buyers of sensitive land, including our coveted islands, New Zealand residents will be first in line for Motuketekete."
Another potential scenario is for a dedicated fishing lodge to be established on the island – something Greenwood says the Hauraki Gulf does not offer.
"Accommodation could even be by way of safari-style luxury permanent steel-framed canvas tents, bearing in mind that nothing is a given development-wise on an island, so any commercial enterprise would naturally require due Council process to be undertaken."
It is understood the original Crown grant for Motuketekete was issued on 25th April 1850 by Governor George Grey, who later bought neighbouring Kawau, to copper miners Frederick Whittaker and Theophilus Heale who established a smelting plant on the island to rival that on Kawau.
Motuketekete subsequently changed hands many times before the Scandrett family purchased it, later selling to Christchurch merchant Thomas Phillip Vivian in 1907, whose descendants remain the owners today.