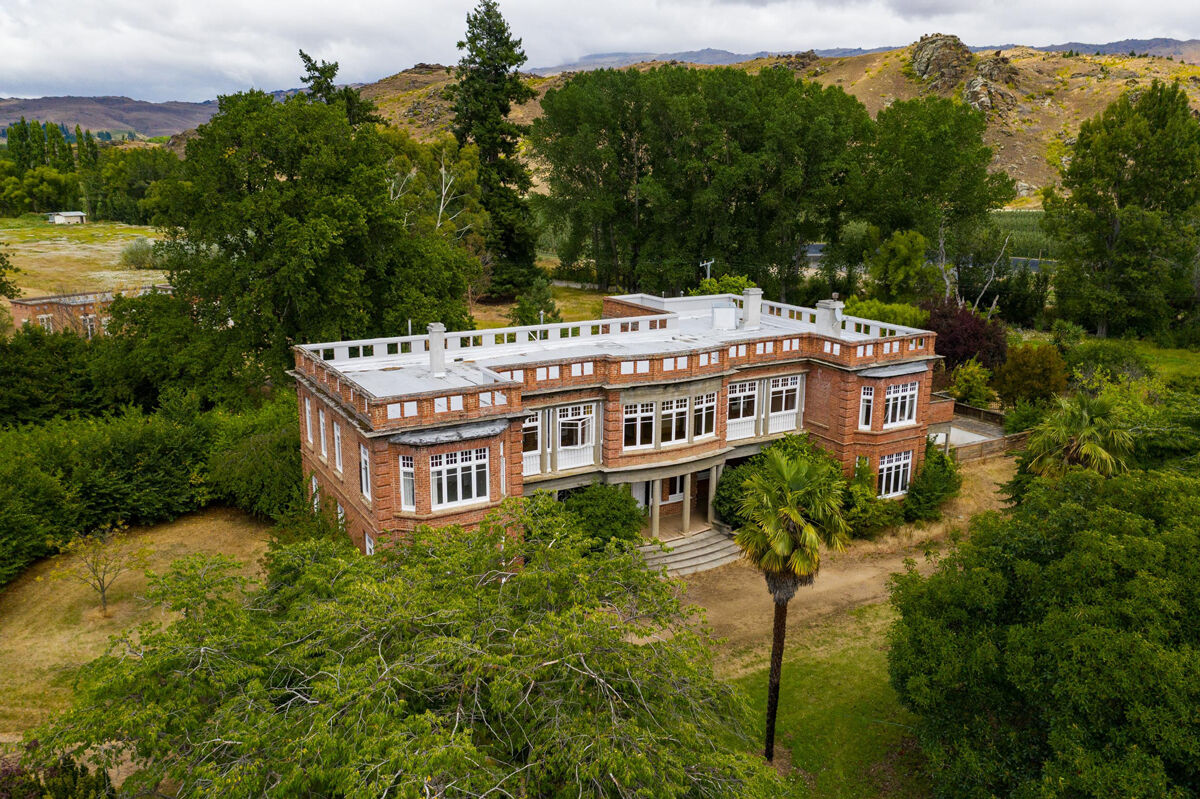 Earnscleugh Station Homestead near the Central Otago township of Clyde is a spectacular eight bedroom/three-bathroom manor which comes complete with two kitchens, a snooker room, and multiple large entertaining parlours.
The stately two-storey residence was built in the early 1920s, and has a Category 1 classification – the highest possible reference - in New Zealand's historic places register.
Historic places body Heritage New Zealand describes Earnscleugh Station Homestead as: "A tangible manifestation of that tendency of New Zealand runholders to indulge in displays of conspicuous consumption."
The homestead was commissioned by Central Otago pastoral entrepreneur Stephen Spain who took control of what was a rabbit-infested sheep station in the early 1900s. Business-minded Spain contained the rabbit problem by shooting bunnies in their thousands, before canning them for the European export market.
With the sizeable proceeds generated from his rabbit export business., including deliveries to troops fighting in World War One, Spain commissioned English-born architect Edmund Anscombe to design Earnscleugh Station Homestead.
Anscombe had emigrated to New Zealand as a child before studying architecture in America, then returning to Dunedin where he crafted plans for the School of Mines building for Otago University.
Widespread public praise and acknowledgement saw Anscombe appointed to the post of university architect where he went on to design five of the institution's academic buildings, as well as Otago Girl's High School, and several of Dunedin commercial premises such as the Lindo Ferguson Building (1927) and the Haynes Building.
Designed in the Victorian/Edwardian/Jacobethan style prevalent between 1880 – 1920, the Earnscleugh Station Homestead contains a range of features pertinent to the period, including: rectangular windows divided into smaller rectangular panes; windows with ornamental stone or brick detailing and lintels; a symmetrical façade, bay windows, wings coming off the main living area; a flat parapeted roofline, and doors enclosed within classical framing.
Such was the display of conspicuous consumption at Earnscleugh Homestead that locals in the nearby townships of Clyde, Alexandra and Cromwell nicknamed the property 'Spain's Folly'. Ironically, Earnscleugh Station Homestead was never fully completed to Anscombe's designs as the Great Depression of 1929–1933 impacted on Spain's personal wealth and ability to fund the project.
In 1940, Stephen Spain's reign at the homestead passed on to his feuding sons, who inhabited the deteriorating building for almost a decade. However, the battling brothers despised each other so much that they built a brick wall through the centre of the homestead in order to minimise contact with each other. The split resulted in the creation of two kitchens – which remain evident at the property today, albeit in modernised versions.
Now the majestic homestead and surrounding 22.1-hecates of land at 754 Earnscleugh Road in Alexandra have now been placed on the market for sale by deadline negotiation through Bayleys Cromwell, with the deadline for offers closing on March 17. Salespeople Gary Kirk and Renee Anderson said that while the former grand manor was habitable, it was in need of substantial refurbishment to return the home to its former gracious state.
"The mansion truly reflects a by-gone era in New Zealand's history… hence its protected status by Heritage New Zealand. By their definition, there is literally nothing like this home available elsewhere in New Zealand," said Mr Kirk.
"The homestead is culturally significant in that it represents the way of life of a wealthy runholder in rural Otago. There are 168 homesteads listed on the national register. Of this figure, just nine are late homesteads built in the period in which Eamscleugh was built, 1900-1929. However, none of this latter group are considered to be mansions.
"The essential 'bones' and original design characteristics of Earnscleugh Station Homestead station are clearly visible – from the indigenous New Zealand wood flooring, door and window framing, stained glass windows, sculptured plastered ceilings, and ceiling beams through to the imposing entrance stairway, and wide hallways.
"However, many of those historic features have been painted or carpeted, plastered or painted over.
"Earnscleugh Station Homestead is the only known New Zealand example of, of a Jacobethan-styled building which is not a collegiate building - but is a homestead designed for a sheep station as distinct from being designed as a large town house."
Ms Anderson said that as an alternative to reinvigorating Earnscleugh Station Homestead, there was also the opportunity, subject to appropriate council consents, to reconfigure the residence as a high-end commercial accommodation provider – with a potential target market of big spending cyclists riding the incredibly popular Otago Rail Trail just a few kilometres way.
She said that within the estate's sprawling park-like grounds was a separate two-storey red brick stables compound, a work shed, and in in-ground swimming pool.
"The special and outstanding features of Earnscleugh Station Homestead are rare in the sense that it is a very large homestead, generally viewed as being a mansion, built of permanent materials at a time when building on this scale by South Island run-holders was about twenty years out of date," she said.
"With the right owner, its future potential in whatever format is sure to contain another chapter of colourful stories."