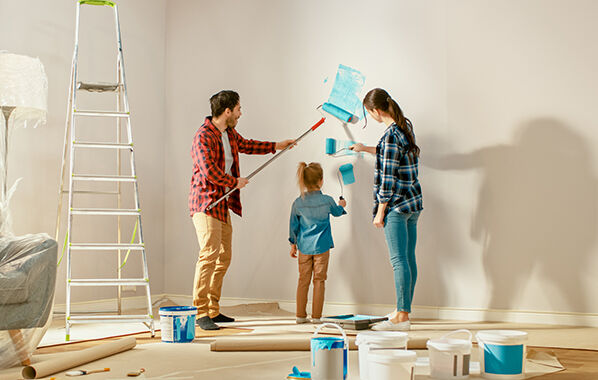 Budding buyers and sellers interested in entering the property market needn't abandon all sale plans, writes Bayleys property reporter Katharina Charles.
Instead, the lockdown can yield some great opportunities for time-poor homeowners to add value to through easy refurbishments.
"One of the most important things sellers can do is take the time to think about what kind of person will eventually buy the property," advises Bayleys Waikato salesperson Sarah Adams.
Sarah, a residential sales specialist and runner-up on the first season of the popular home renovation show The Block New Zealand, says one of the most productive moves when looking to add value to your home should be to identify the home's target market and tailor refurbishments accordingly.
"Investigating your neighbourhood's demographic, features and amenities should give a clear picture of what kind of buyer will fall in love with your home.
"When they can really envisage their life at the property, that's when everything (including sale negotiations) tend to fall in to place."
**Planning **
Said to be the most important part of the home renovation process, the planning and budgeting phase can often be overlooked in favour of more glamorous tasks such as shopping.
But with extra time on our hands and the motivation to add-value, homeowners can use the lockdown by investing time planning detail-oriented works such as landscaping, bathroom and kitchen renovations.
Ask yourself questions like what is the budget? What problems do I anticipate? What tasks will add the most value, and do I need planning permissions or consent?
While retailers and home service providers may have paused for the time-being, online stores offer inspiration and pricing which is essential information when planning and budgeting home refurbishments.
Online apps such as Houzz offer do-it-yourself renovators the chance to visualise changes before they're made, while retailers like Mitre 10 provide guided 'how-to' videos on some of the more tricky home renovation tasks.
As property investment is essentially a business, your plan and budget will require several revisions, however once you gain an accurate picture of what is required, you'll be able to add the recommended 10 percent contingency cost – so as to avoid any budget blow-outs.
**Tool-dependant **
When undertaking refurbishments during the current lockdown period, what you have in your tool shed will likely dictate the tasks at hand.
Here are some great job ideas should you have the right equipment lying around.
• Repaint your house: Usually first on the list for those renovating for resale, a fresh lick of paint can have your home feeling brand new.
• Decking: Stored timber can make a great new outdoor addition, or at the very least provide an excellent solution to rotting or damaged deck boards.
• Bedroom features: Whether they're timber, upholstered or simply a painted illusion, do-it-yourself headboards are quick and easy to make, adding serious 'Wow' factor to any bedroom.
• Window treatments: Flowing floor-to-ceiling curtains add luxury to any space while folding blinds are a practical solution for smaller rooms. The lockdown presents an opportunity to reassess window treatments and utilise surplus fabrics.
• Cabinetry: Sanding, painting and re-fitting cabinetry is a quick and easy-way to give kitchens and bathrooms a new lease on life. Why not remove doors for more open display-style storage?
The little things
Usually found languishing at the bottom on many a homeowner's 'to-do list', little chores can actually have a big impact when it comes time to present your home in its best light.
Exterior tasks such as water-spraying, eliminating mould, moss and rust spots, sanding, painting, filling and clearing can give your home an instantaneous lift and some serious street appeal.
Replacing hardware like doorknobs, taps, cabinetry and light fittings offer a relatively cost-effective way to modernise or update kitchens and bathrooms, with plenty of inspiration found online.
Of equal importance is creating a home which is free from clutter and unnecessary items as an over-abundance of personal effects can make the home appear smaller and darker.
Despite having restricted access to services and retailers which would otherwise offer the purchase of tools, materials and services, the beauty of the current lockdown is that home-owners can get creative, investigating ways to add value using what's in your home or by carefully planning future renovations.