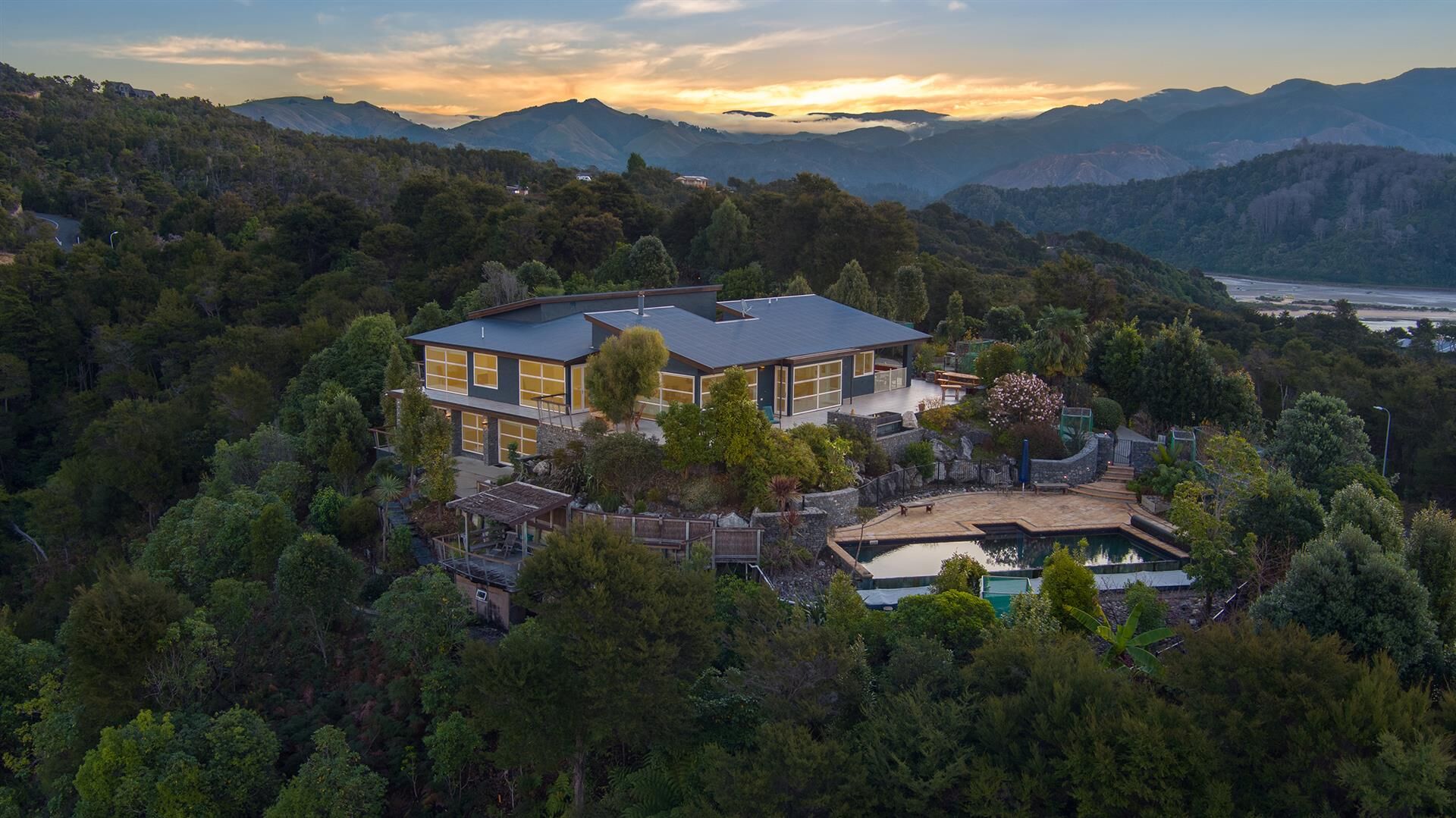 The executive residence near the Tasman Bay township of Kaiteriteri features a lodge-like four-bedroom/three-bathroom dwelling with uninterrupted sea views overlooking Split Apple Rock – a large round boulder sliced in half which sits above the waterline a short distance from the shoreline.
Split Apple Rock regularly features in tourism promotional images, while nearby Kaiteriteri Beach is regarded as one of New Zealand's top-five swimming spots.
Known as Puriri Lodge, the modern 370-square metre two-storey dwelling for sale sits on a 1.148-hectare section planted with puriri, rewarewa, nikau, and Pohutukawa trees to specifically attract tuis, bellbirds, and kereru (native wood pigeon).
Swimmers will love the options available at Puriri Lodge – with a heated in-ground infinity pool surrounded by bush to ensure total privacy, while several walkways through the native bush lead down to the choice of the secluded golden sand shores at Split Apple Rock, Towers Bay, or walk to Sandy Bay beach accessed by Kohi Walkway in Gannet Heights.
The home's four bedrooms – three of which have their own ensuites – all look out to Tasman Bay. Other design benefits around the idyllic home with its underfloor heating include a dedicated wine cellar, substantial walk-in storage room, powder room, and a walk-in butler's pantry discretely housed on one side of the kitchen. The adjoining open-plan dining and living areas with their high-vaulted ceilings deliver another elongated view out to the sea framed by the thick native bush below.
The wheelchair-accessible luxury dwelling at 158 Tokongawa Drive at Kaiteriteri is now being marketed for sale by tender through Bayleys Motueka, with the tender closing on Wednesday 20th July. Salesperson Matt Galvin said the property and U-shaped home reflected a harmonious balance between nature, the landscape, and unparalleled views of Tasman Bay with its pristine beaches.
"This truly is a meticulously built entertainer's home… The outdoor kitchen has its own food-prep' bench and cabinetry adjacent to the BBQ. The paved pool area looks like something out of a Mediterranean-inspired luxury hotel. And there is another separate viewing platform closer to the homestead which offers peace and tranquillity among the birdsong," said Galvin.
"With so much outdoor living, there's a place for every season and mood – whether you're seeking sun, shade, a gathering around the dinner table, or your very own 'get-away' nook amongst the bush."
Property owner Hilary Carson-Campbell who has owned the Kaiteriteri land since 2000, was passionately committed to creating a wildlife-rich bush environment to compliment Puriri Lodge's stunning 340-degree coastal views. She spent a year strategically observing the sun's aspects so that Puriri Lodge was subsequently positioned to make the most of sunshine.
"My vision for the property was to create an arboretum which would not only offer a diversity of species, but would also attract bees, native birds. Species were carefully selected that would produce nectar or berries for the native birds." said Northern Irish-born Hilary who brought various Celtic-inspired elements to the property.
"My other vision for Puriri Lodge was to provide a variety of edible fruit from the property and take advantage of the microclimate in part of the garden."
"The property now provides year-round fruit, including peaches, persimmons, plums, and pears – with all the apple varieties except for the Braeburn - being heritage varietals. The property also yields a wide variety of tropical wonderful navel oranges and limes, as well as avocados, pomegranates, figs, and macadamias."
Puriri Lodge and its raft of design features are strongly linked to Tasman Bay craftsmen. The landscaping was planned by environmental specialist Rory Langbridge from Nelson. Masonry stonework was undertaken by Neil Dreaver from Motueka. The electronic iron gates and pedestrian gate were crafted by Tim Bleackley from Nelson. The outdoor shower was hand crafted in copper by local plumber John Hamilton and the two pieces of Celtic sculpture on totara poles were crafted by Tim Wraight from Marahau.
Click here for more information on the listing.