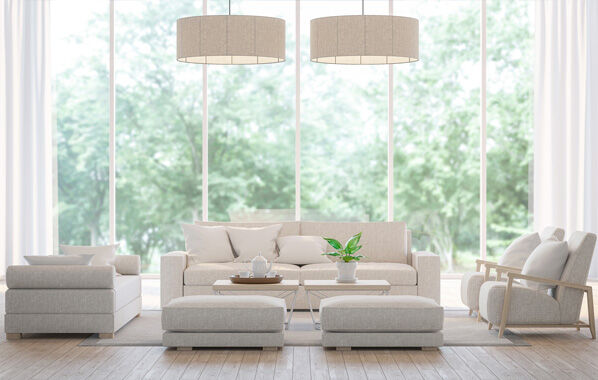 Spring: it's a welcome relief after the cold, dark days of winter. The weather can be fickle but the season comes with certain advantages you can count on: longer, brighter days and a revitalised market for selling your home.
Buyers come out in greater numbers in spring, and the signs many of our salespeople are seeing back a market view that this spring will bring a strong pick-up in listings.
So how can you harness the brightness to add value to your property for a successful sale. We've drawn on the experience of Bayleys' nationwide network of sales experts to offer these four ways to harness the sun and natural light to get the best price for your home:
A touch of glass
If you're in a position to make alterations, optimising the size and location of windows, particularly on north-facing facades, will go a long way to maximise the supply of light bathing interior spaces. Introducing leadlights or glass insets to external doors and entranceways will not only add character, but see you inviting in light as well as guests. Skylights are a highly-effective way to brighten dark internal areas. Features including double-glazing or an ability to open the skylight for ventilation will let you harness the sun's light without undue heat. Simply cleaning windows and skylights to remove dirt, mould or condensation will make a noticeable difference. Consider replacing dark or heavy curtains with lighter fabrics that allow sunlight to filter in while still maintaining privacy.
Let it bounce
Getting light into your home is just the beginning. Colour schemes based around whites or lustrous neutrals will multiply the advantages by allowing light to bounce. Decorating or staging your home with mirrors and other reflective surfaces such as glass tables and metallic furniture and picture frames will add to the effect. Consideration of things lustrous will also provide another good reason to get started with that spring clean. Relieving your home of surplus furniture and other unnecessary clutter will add to the general sense of airiness. Removing furniture from around windows, in particular, will eliminate unwanted shade and improve the flow of air.
Great outdoors
Similar principles apply outside. Pruning back or removing trees near windows is an obvious start. But the warmer months move the whole focus back towards outdoor living, so it's worth giving attention to the fabled 'indoor-outdoor flow'. When considering alterations, think carefully about what will pay off financially, but opening up a wall and adding bi-folding doors or ranch sliders opening onto a deck is likely to make good financial sense. The added feeling of space, light and flow will add to your home's appeal and ultimately its sale price. Consider a comprehensive review of outside spaces, including decking and garden areas that should make best use of both light and shade. An initial consultation with a landscape design specialist can start from a few hundred dollars, through to several thousand for a fully-planned and implemented garden concept – but if it adds lifestyle and value-enhancing appeal, it's a good investment.
Solar power
Harnessing the sun to power your home can be a winner for some homeowners, adding to a property's appeal among buyers. It's important to weigh up whether solar panels stack up for your home. For an average house, they can be installed for under $10,000 then pay themselves off over time via savings on your power bills. Just how long it takes depends on many factors including the location and aspect of your home, the pitch of your roof, and whether it's shaded by the neighbour's trees, as well as power prices and buy-back rates. If it's already installed and offers ongoing cost savings, a solar installation can add value to your home – keep a record of its performance to show buyers. Its 'green' credentials will be an added attraction among eco-conscious buyers.