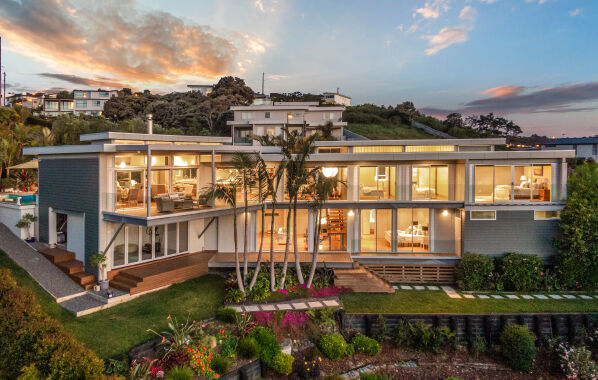 Influencing so much more than just street appeal, your home's exterior cladding has the potential to impact its energy efficiency, weathertightness and ultimately, its sale price. Bayleys property reporter Katharina Charles investigates which exterior aesthetics are proving most popular with Auckland's buyers.
Where advances in build technology, transport and shipping now offer greater choice in terms of workable materials for exterior cladding, factors which influence homeowner's preferences include sustainable sourcing, longevity, availability and trending design.
Following the leaky homes crisis which rocked New Zealand's building and construction industry between 1994 and 2004, it's clear all materials are not created equal and the variations in life-span, upkeep and aesthetic result in a spectrum of market value when it comes time to sell.
Tried and true
According to data from homes.co.nz suburban areas in Auckland with the highest estimated median sale price include Herne and Saint Marys Bay's on the northern slopes of the city fringe and Stanley Point in Devonport.
While sharing a coveted waterside position, these suburbs also have a high percentage of homes featuring colonial architecture and thus, common aesthetic themes which include weatherboard cladding.
Regarded as a versatile, familiar and sustainable cladding material, timber weatherboard has a maintenance cycle of eight-to-10 years, after which repainting with high quality paint will improve weathertightness and appearance.
Alternatively, man-made weatherboard retains its classic aesthetic while making maintenance that much easier for homeowners.
Using fibre cement rather than natural timber, many variations of man-made weatherboard exist on the market at varying price-points, and it pays to investigate before choosing the material best suited to your needs.
Another material with perennial appeal, brick masonry has remained a sought-after siding option, demonstrated in new residential subdivisions where it is predominantly used as mixed material cladding; brick veneer or a combination of brick and weatherboard.
**Monolithic cladding **
Undoubtedly a catastrophic disaster for some 89,000 homeowners, New Zealand's leaky homes crisis is today still felt as an enduring stigma for monolithic plaster cladding.
Thought to be a stylish, cost-effective and versatile siding option, monolithic cladding of the time used its paint finish as a barrier to water ingress, which when coupled with popular angular design, improper installation and the use of untreated pine framing, in some cases led to decay, corrosion and water breaches.
Plaster cladding was so popular that an estimated one in five new homes between 1994 and 2004 were thought to be flanked in the material, which has led to a great debate about its suitability today.
Despite the fact that not all homes with monolithic cladding suffer from weathertightness issues, homes of this style have experienced the lowest value increase over the last decade.
In the research paper titled 'Stigma, risk perception and the remediation of leaky homes in New Zealand' lead author Dr Michael Rehm from the Auckland Business School's Department of Property found that monolithic clad homes which had not undergone remediation for water ingress suffered an average discount of nine percent on market value when re-sold.
Interestingly, the research also showed that previously leaky homes re-clad in the same material sold for six percent less, while homes re-clad in alternative materials, such as weatherboard, suffered no market discount.
Where the popularity of modern options, especially those which are cost effective and efficient, exists, New Zealanders have a clear affinity for classic styles such as timber weatherboard and brick persist.
As your home's outer shell, your choice of exterior cladding can be totally subjective and what's to your taste may not be of popular opinion or remain in vogue for the years to come.
It is worthwhile to note that suitability to your budget, climate and lifestyle are therefore the best factors to consider when renovating or choosing an exterior aesthetic for your new home.