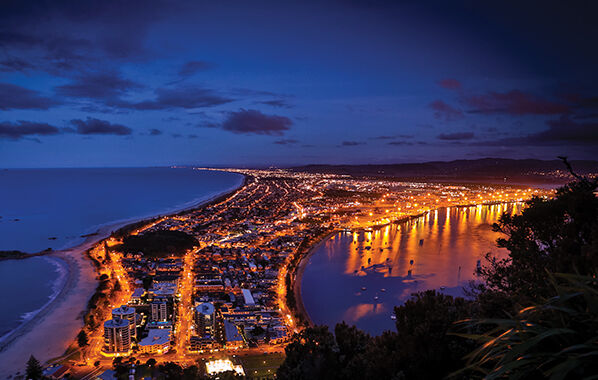 There's nothing like a holiday to provide the impetus for a life reboot. One minute you're relaxing in the summer sun – the next you're contemplating life back in an Auckland winter: the commute, the crowds, the fuel tax. It can be enough to make you want to up sticks, escape to the regions and ease into a more relaxed lifestyle.
Many people have already made the move. Despite Auckland's population rising from 1.4 million to nearly 1.7 million over the past five years, thousands of residents have departed to start new lives around the country. Thanks to the Super City's supercharged housing prices, buyers have generally been able to trade up to a better home at a cheaper price.
Fuelled in part by this migration, regional centres including Rotorua, Hamilton and Tauranga have seen their populations increase. In June 2018, Rotorua's population stood at 72,500, up 6 percent on 2013; Hamilton's has swelled by 14 percent (161,000) and Tauranga's by 12 percent (128,000). In turn, this wave of urbane immigrants have been blamed for pushing up local house prices and making Auckland's housing unaffordability a nationwide problem.
But is this true, and is it too late for Aucklanders to make a rewarding escape to the regions?
"Not at all," says Daniel Coulson, Bayleys' national residential manager. "We're still seeing plenty of Aucklanders cashing up and moving to the regions – with Hawkes Bay, Bay of Plenty and the Mahurangi Peninsula among the areas which are seeing particularly strong demand.
"The whole country has seen price growth over recent years, and many areas have outpaced Auckland. But price growth is now at much more sustainable levels; and it's likely to be that way for the mid-term. So if you're planning to make a move, there are still places that offer tremendous value for money."
Crunching the numbers
An analysis of REINZ median sales-price data shows that over the five years from the third quarter of 2013 to the same period in 2018, the median price of an Auckland home rose 49 percent, from $563,800 to $840,000. Several other regions saw similar inflation in percentage terms – and, in locations such as Tauranga (80%) and Rotorua (65%), significantly more.
This has led to a common perception that the price gap is closing, along with the door on the dream of releasing piles of cash by relocating to the regions.
But a closer look at the data reveals that, in dollar terms, the equity you can release by trading in your Auckland property for a local home has actually grown in almost every regional location – bar Queenstown.
For example, Rotorua's 65 percent lift (from $243,500 to $400,500) has made its median price $157,000 more expensive over the past five years. But Auckland's rise of 49 percent, starting from a median price of $563,800 five years ago, has added $276,000 to the proceeds of a sale. Based on these figures, if you're considering trading in your Auckland home RotoVegas is a great bet – allowing you to release $439,500 of equity, compared with $320,300 five years ago.
In dollar terms, the Auckland-Rotorua house-price equation has become even more favourable. With its forests, lakes and buoyant tourist economy, Rotorua is a hotspot not just for visitors to its geothermal wonders, but also for those seeking fantastic lifestyle options and more affordable housing.
The Golden Triangle
The triangle formed between Auckland, Hamilton and Tauranga, is indeed golden. As the economy in the region continues to grow, over the next decade Hamilton's population is expected to swell by another 17 percent, and Tauranga's by 19 percent.
Despite these rosy predictions, the median sales price of a home in The Tron has remained stable over the past year and, as a proportion of Auckland prices, hasn't changed much over the past five years. In 2013, the median home there sold for 61 percent of Auckland's price; now it's 65 percent.
But, again, the dollar-value discount of buying in Hamilton has grown significantly: from $219,550 to $295,000.
With huge ongoing investment in the area, including key infrastructure such as the Ruakura Inland Port, and with house prices a third cheaper than in Auckland, sending the removals trucks 125km down State Highway 1 can still be a smart, and profitable move.
Long a destination of choice for Auckland émigrés, Tauranga also holds onto its gold lining. Those who thought they'd missed the boat on a move to the laid-back port city may be surprised to learn that, despite house-price inflation of 80 percent since 2013, Tauranga property is still a considerably cheaper buy. The median sale price is now 73 percent of Auckland's, up from 60 percent five years ago. But, when you count the dollars, a move to the Bay city now will leave you no less better off – you'll get $228,000 of change from trading in your Auckland home, compared with $223,800 five years ago.
And there are signs the bargains are set to continue. While median year-on-year prices remained stable, over the winter Tauranga saw a 5 percent drop in prices. Last year the city council approved over $500 million of new residential builds, which could further cool the market. Oh, and did we mention the beaches, the laidback lifestyle and booming job market?
"Tauranga now seems less prone to price fluctuations," says Kelvin Davidson, senior research analyst at CoreLogic. "The buyer base there is a lot more stable than other markets around the country. Instead of investors and first-home buyers, there are a lot more owner-occupiers moving into and around the area. And, certainly, with more houses being built, it will mean flatter prices.
"But with Tauranga, it's always about more than just house prices. It's more of a lifestyle thing – so it's always going to be an in-demand place to live."
**Wellington **
Wellington's property market has been a star performer of late. However, despite a 46 percent rise in the median price over the past half-decade, and a 6 percent increase over the year, values in our capital still lag behind Auckland.
"Wellington has been undervalued for some time," says Coulson. "Historically, it tends to see strong value growth during periods of a Labour-led government, due to anticipated growth in public-sector employment, so it's only recently started to pick up."
The median price in the harbour city ($707,000), is now 84 percent of Auckland's – actually down slightly from 86 percent five years ago. But, partly due to this lag, and with Jacinda in the Beehive, things are stepping up.
"Wellington has always been a solid market, with plenty of well-paid public sector jobs, but there's not really any place for the city to grow," says Davidson. "It's a limited geographical market with low listings and at the moment, any home that comes on the market is snapped up pretty quickly, which is maintaining pressure on prices."
Queenstown Lakes
Most people who have visited Queenstown will agree it's a stand-out … and we're talking about more than amazing scenery and adventure activities. The Queenstown Lakes area's median home price is exceptional too. Since 2013, it's soared by 120 percent, from $475,000 to $1,044,400.
Five years ago, median Auckland prices were 19 percent more expensive than those in our adventure capital; now a home near the snow will cost 24 percent more than one in our soy-latte capital. What's going on? Well, while numbers don't lie, statistics can become skewed.
Over the past 12 months, Queenstown has experienced price growth of 17 percent. In its September report, CoreLogic said the rise "could reflect a late surge before the foreign buyer ban is enacted". It's something supported by official figures that show the area recorded the highest proportion of foreign buyers in the third quarter of 2018, at 5.2 percent, compared to 4 percent in Auckland. Many of those sales would have been expensive properties that disproportionately affect sales data.
"Over a reduced time frame, and especially in a small market like Queenstown, median selling prices can be skewed," says Davidson. "The effect of the foreign buyer ban has been one of the things we've been looking out for, and there definitely was a bounce going into September, so there might have been a rush to beat the ban.
"But Queenstown has always been a very desirable market, especially among investors, but prices have come off the boil – two years ago, year-on-year values were up 30 percent."
If you disregard millionaire holiday homes, and focus on family residences, prices are on a par with the inner suburbs of Auckland. For example, a modern three-bedroom home in the exclusive Jacks Point development can be yours for $1.28 million.
It's not an equation for releasing equity, but if you can afford it, the growing local economy, year-round leisure options and breathtaking views mean there are still plenty of good reasons to want to call Queenstown home.
The price is right
As Auckland's prices level off, Davidson says we're now seeing a two-speed economy: "The market at the moment, you need to characterise it by: main centres versus regions. Property in the main centres has already risen to high prices, so now the growth is around smaller provincial areas, like Whanganui, Gisborne, Hawke's Bay. In these regional centres, the growth is driven by fundamentals such as the economy and capacity constraints in the labour market."
Coulson adds: "There are areas in the regions that offer great value and employment opportunities. Places like Turangi offer affordability and a fabulously relaxed lifestyle. Between Auckland and Hamilton, Te Kauwhata is seeing significant development and, if you're motivated to make a big move, Invercargill is really affordable."
With a median price of $248,000, Invercargill does have some of the lowest-priced real estate in the land – though the secret is starting to get out, with the market sparking up off the back of a 5.5 percent year-on-year rise in median prices. Whanganui, too, is also gaining in popularity, with a median price of $225,000 – up 8 percent in a year. Only the West Coast has experienced a drop: down nearly 5 percent over five years, to $210,000.
In most provincial centres, property prices are around half the Auckland level: Palmerston North ($395,000; 47% of Auckland's median price); Hastings ($413,000; 49%); Dunedin ($415,000, 49%); Christchurch ($441,000; 53%); New Plymouth and Whangarei ($450,000; 53%); Napier ($477,000; 57%); and Nelson ($562,000; 67%).
An added sweetener is that while the median house price in these areas sits at half Auckland's level, average wages are generally only around a third lower – so there's a good chance the affordability equation will continue to stack up long after you've made the move.
Staying put
While plotting an escape to the regions still makes sense financially, even staying within the boundaries of the Super City there are still relative bargains to be found.
CoreLogic's latest Auckland Suburb Change Map shows areas of softening prices across the city, from Flat Bush and Mt Wellington in the south, to Maraetai in the east, Green Bay in the west and up north to Albany and Kumeu. Homes in both Papakura and Franklin are priced at roughly 60 percent of the city average.
If you're looking for a cheaper home in Auckland, Coulson's advice is simple: "From the centre of Auckland, draw a circle 10km in radius and, from there, look for the most affordable option."
Ultimately, if in 2019 you're asking yourself the question: "Should I stay, or should I go?", your answer won't come down to property prices alone. Lifestyle options, job prospects, and local ties with family and friends are important factors in any decision about where to live. But, looking at the numbers, it's reassuring to know that if you decide to press 'Go', a move to the regions could not only ease your stress levels and improve your lifestyle, but boost your finances too.