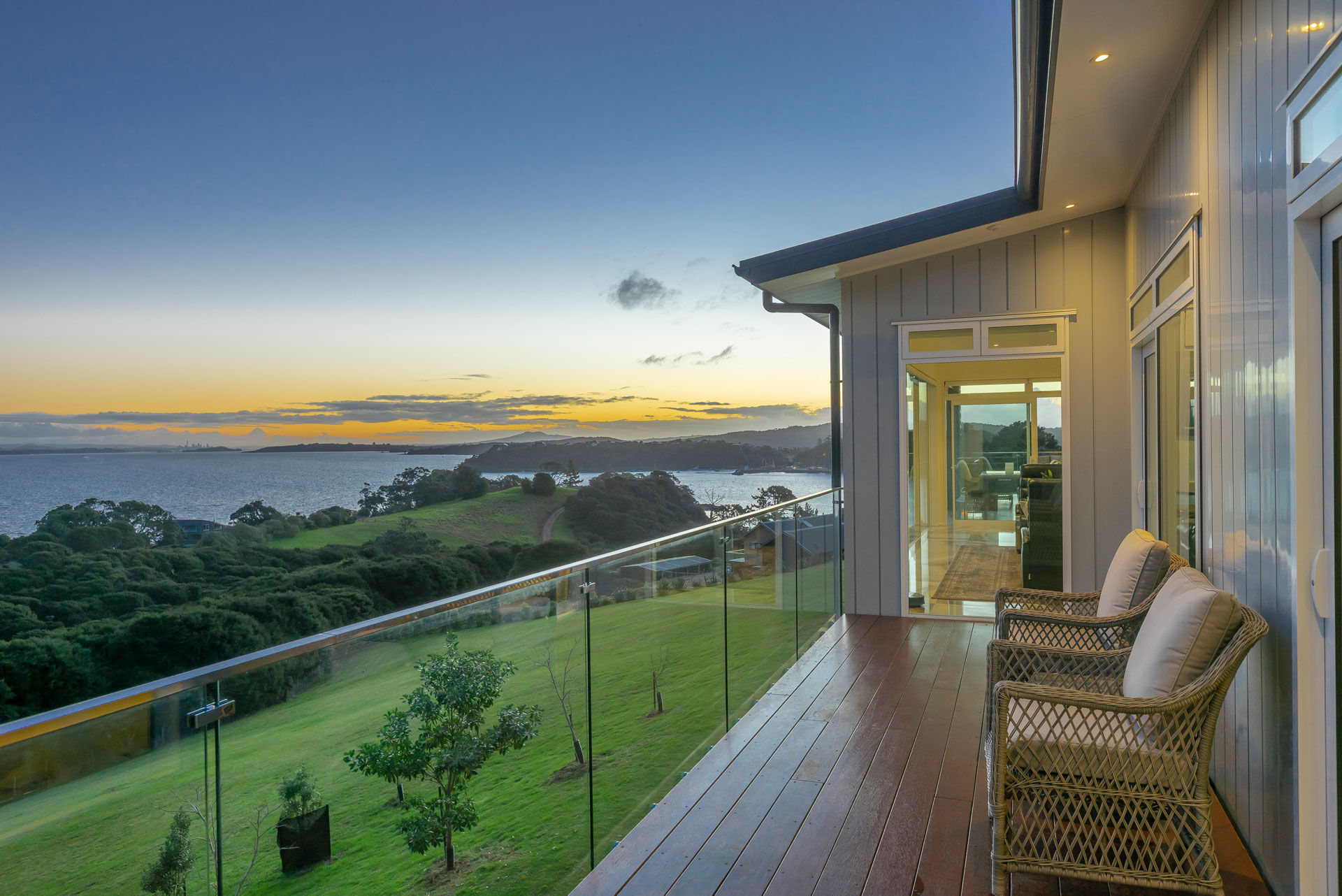 Perfectly positioned as an antipodean paradise, homeowners across the Auckland region have a long-held fascination with seaside views, however, the demands of modern lifestyles and rising property values have the potential to alter our concept of aspirational.
New transport links, significant investment into local infrastructure and the rise of do-it-yourself property development has seen values for preferably-zoned land sites achieve sky-high sale prices.
EMPHASIS ON INTENSIFICATION
Following the 2016 release of the Auckland Council's Unitary Plan which saw large chunks of the region rezoned to allow greater intensification, many landowners received a boost to their capital gain with property developers keen to snap up viable land sites.
This has fed a growing market trend which has seen properties with subdivision, development or expansion potential net the highest prices.
Recently, the Auckland Council unveiled proposed plans which would remove further density controls to allow the construction of new apartment buildings up to six levels or more in urban areas proximate to the central city, metropolitan centres and transport hubs.
The region's scarcity of available land means that such changes instantly add value to properties with greater development potential.
These high-profile reforms double down on what Kiwis already know, and that is residential property investment has been a huge vehicle for household wealth creation.
A ROOM WITH A VIEW
Where there has been huge conjecture about New Zealand homes becoming a money-making asset rather than a sanctuary for our families, survey data indicates that lifestyle factors still inform our residential purchasing decisions.
Bayleys' global property partner Knight Frank recently found that British house hunters paid nearly 50 percent more, on average, to live near a body of water.
In New Zealand, beach, lake and riverfront houses are traditionally held as long-term family investments with personal memories tied to these homes by the sea.
**SEASIDE WELLBEING **
Having a home with water views has long been recognised as being good for the soul and a joint study by researchers at universities in New Zealand and the United States has found homeowners with residences positioned near bodies of water are generally found to have lower levels of anxiety.
The study, conducted by researchers at the University of Canterbury, Otago and Michigan State University compares the psychological effects of proximity to 'blue space' water bodies such as oceans, rivers, estuaries and lakes with 'green space' areas of vegetation including regional parks, bushland, forests, farms and private gardens.
The study found those residing in communities with a line of sight to 'blue spaces' had lower levels of stress and anxiety than those who did not.
The research suggested 'blue space' may even play a part in reducing individual psychological distress.
Using feedback from a survey of adult participants conducted by New Zealand's Ministry of Health researchers rated residents' responses on a psychological distress scale.
Offering a short questionnaire designed to measure a person's level of anxiety and depression, the researchers hypothesised a higher score would indicate a stronger likeliness of depression or anxiety.
Data collected from the study found Wellington-based residents with higher visibility of 'blue space' from their homes scored lower on the measure of psychological distress.
Ministry of Health researchers concluded that a 20-percent increase in visibility of 'blue space' had a direct impact on the level of stress experienced by the individual.
**PERSONAL PREFERENCE **
While difficult to quantify the exact value of a water view, a historical survey conducted by Bayleys found 71 percent of respondents valued ocean views above other outlooks.
Some 24 percent of the respondents indicated that park, country and views of the bush or forest were their first preference, while just four per cent noted a city view as their favourite backdrop.
One percent of the respondents noted that views were of no importance at all.
To better understand the value of water views versus development potential, Bayleys compared unconditional sales data from 12 Auckland suburbs.
The average price of homes with ocean views of the Waitemata Harbour in neighbourhoods including Takapuna, Mission Bay, Bucklands Beach and Herne Bay rose by 61 percent when compared with the same quarter five years earlier.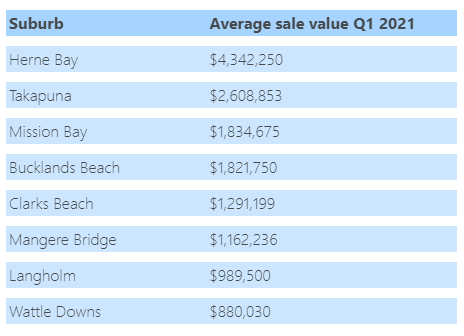 Comparatively, homes overlooking the Manukau Harbour in suburbs including Wattle Downs, Langholm, Mangere Bridge and Clarks Beach rose 37 percent.
Interestingly, homes in high-growth areas that have benefitted from rezoning and intensification such as Botany, Albany, Newmarket and New Lynn averaged just shy of 30 percent value growth in Q1 2021 when compared to Q1 in 2016.
Source: REINZ unconditional sales data
While the data indicates a preference for homes that gain views of the Waitemata Harbour and outer gulf, accurate comparisons are difficult to make given the wide range of variables that affect the value of residential properties.
Floor and site size, design, features including bedrooms, bathrooms and car parking, building materials, age, proximity to amenities and perception of the local community all have a bearing on the price purchasers are willing to pay. However, it is reasonably safe to say that Kiwis continue to value waterfront property as an intergenerational investment and aspirational asset.