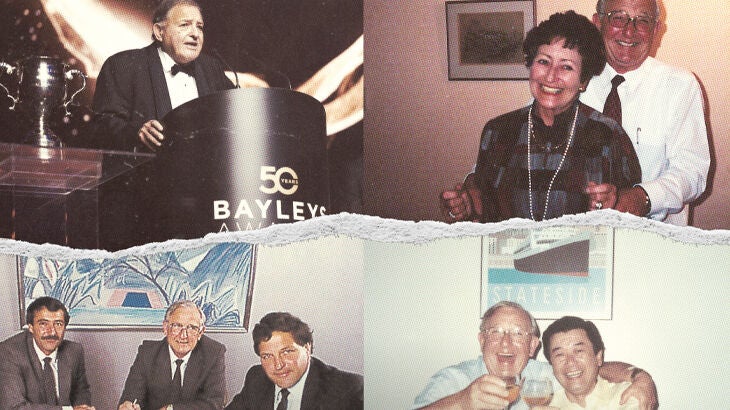 Bayleys recently celebrated its 50th anniversary. Total Property looks back on half a century of growth and some of the company's most significant commercial transactions.
Bayleys Real Estate Limited slipped quietly into existence on September 6, 1973, the date the new business was officially registered with the Companies Office.
Its first office was the basement of the recently acquired home of Graham and Pam Bayley at 69 Fisher Parade, Pakuranga, Auckland. The company had just three staff: salespeople Graham and son John and Pam who was the receptionist, administrator and financial controller.
Never in their most optimistic expectations could they have conceived that within half a century their tiny business would grow into one of New Zealand's most recognised real estate brands with more than 2,000 people working from 100 offices across the country and with a presence in Fiji.
Graham had spent nearly three decades of his working life as a farmer, having initially acquired a rehabilitation farm in the King Country at the age of 23, following three years of distinguished service as an RNZAF fighter pilot in World War II. Then in the late 1960s, he decided on a career change, joining Hamilton real estate firm Matthews & Hyde as a rural agent.
John Bayley also joined Matthews & Hyde, in his early 20s. Increasingly, he and Graham were travelling to Auckland to negotiate commercial and industrial property deals, predominantly for clients whose farms Graham had sold and who were now looking for retirement investments.
John and Graham could also see that Auckland's growth was creating huge opportunities in both the commercial and residential property markets. So, they decided to establish their own real estate business in South Auckland where much of that growth was occurring.
They also persuaded some Waikato developer clients to make the journey north with them and undertake housing subdivisions that Bayleys would sell for them.
"What I find almost unbelievable is that Graham set up Bayleys with Pam and John when he was 50 years old," said his grandson Mike Bayley, now managing director of Bayley Corporation. "He'd already lived a dozen lives and had overcome great hurdles just to survive – yet he was still energised and hungry for success. Many of the values and philosophies that remain at the core of our business had their origins with Graham."
Bayleys' first transaction involved a modest house in Manurewa, sold by John Bayley to State Advances to add to the state housing stock. Memories are hazy about the actual sale price but what has been remembered was the $300 worth of commission it generated – and that it was celebrated. Many more celebrations were to follow!
In 1974, Graham and Pam's second oldest son David joined the business, which was by then based in a new office building at 89 Great South Road, Papatoetoe. He took over as financial controller, as well as project managing the increasing number of new residential subdivisions Bayleys was being asked to sell houses in.
This freed up John and Graham to focus on business development and strengthening Bayleys' growing presence in the commercial and industrial market, with Graham leading an industrial sales and leasing team established in the mid-70s.
Swathes of former farmland in East Tamaki rezoned industrial represented a big opportunity and Bayleys worked with landowners to progressively sell down their holdings and open them up for development.
"It meant we were earning income at various stages of the development process," recalled Ian McHardy, who was appointed Papatoetoe office sales manager in 1981 and would go on to chalk up more than 30 years of service with Bayleys. "It started with the initial land sale and then often included leasing fees and the sale of either subdivided lots or completed buildings at the end. It was a very successful formula and Bayleys was largely responsible for the rapid development of East Tamaki in the 1980s."
Heading into the CBD
John Bayley's almost instinctive ability to sniff out new opportunities and be the first to make the most of them also led to a decision to establish a presence in the central city in the early 1980s. An office was opened in Symonds Street and CBD commercial leasing and sales activity grew rapidly on the back of a surging property market.
The radical restructuring and deregulation of the economy and financial markets by a new Labour Government in 1984 contributed significantly to a massive boom in commercial property development and investment activity, particularly in the CBD. Typical of the market's exuberance was Bayleys' first big auction sale in 1986 of a 3,293sqm development site at 23-29 Albert Street. The vendor's price expectations were around $16 million so they delightedly accepted a $25 million pre-auction offer.
However, as Bayleys would discover several times during its 50-year history, all big booms eventually end as this one did in October 1987. One of Bayleys' longest-serving commercial agents Nigel McNeill, who'd leased and sold large volumes of strata-titled floors in new office developments along the Symonds Street ridge, sensed something was amiss.
"I can distinctly remember sitting at my desk in mid-October 1987 and thinking something was terribly wrong. I had earned around $120,000 in gross commission that day selling strata floors off the plans and yet I hadn't left the office or met any purchasers face-to-face. My fears were realised the following week when the share market crashed."
The downturn in the property market that followed was more of a slow train wreck than the sudden collapse of the share market. Bayleys continued to conclude big office leasing deals and in late 1987 Graham Bayley sold 242 and 246 Queen Street to Japanese-owned Pasco Development for just over $30 million.
However, by the end of 1988, New Zealand was in a recession and the property market was in the doldrums. Some hard calls needed to be made. Bayleys had just over 70 staff working out of its 73 Symonds Street office and a smaller residential and industrial team in Papatoetoe.
The first tough decision made was to close the Papatoetoe office and focus on consolidating and growing operations in the CBD. John and David Bayley, by now the company's sole shareholders, also realised that they needed to completely change the way they did business if they were to survive.
"I'd spent the first 15 years in the game putting things around the wrong way; we were effectively taxi drivers working for buyers," said John Bayley. "We had few controlled listings. We'd mostly just sign a buyer up and hope like hell the deal would stick.
"It was a terrible business model that would no longer work in a market where the banks and receivers were taking control and wanted to know that we were working for them. Now we had to drive really hard for the vendor and the success of the sale. We were the first agency to change the focus from buyers to actively marketing property for vendors and as a result, sellers were coming to us."
Buyers, however, were still an important part of the equation and there simply weren't enough of them in New Zealand for the increasing volumes of listings coming under Bayleys' control. Overseas-based investors were identified as the most likely source of new potential purchasers and they became a big focus.
"It all really started with John and I heading to Hong Kong in the late 80s with briefcases full of properties for sale," said David Bayley. "We jumped on a lot of aeroplanes and knocked on many doors. It was challenging, pioneering work initially because not a lot was known about New Zealand."
A Bayleys Asia office was established in Hong Kong and James Chan was employed as an interpreter there in 1989. He would later go on to establish a very successful 30-plus years sales career with Bayleys back in New Zealand, dealing predominantly with both offshore and local Asian buyers.
"Building relationships was what it was all about, and it eventually brought in buyers," said David Bayley. "In particular, we introduced big spending offshore purchasers to the higher value end of the New Zealand market at a time when it was being shunned by institutional investors."
Turning things around in the 1990s
The hard yards put in in Asia started paying big dividends in the early 1990s. Hong Kong-based Hind Group, owned by the Jhunjhunwala family, was one of Bayleys Asia's earliest big clients acquiring more than $100 million worth of Auckland properties, starting with the partially developed Central Park office complex in Penrose, purchased for $38 million in 1992.
One of Bayleys' biggest-ever corporate deals involved the merger of the property interests of Brierley Investments with Hong Kong-based SEA Holdings to form SEABIL in 1993. Brierley Properties appointed John and David Bayley to act for the company in its sale of close to $300 million of properties into the entity.
A big focus was being put on Singapore as well and by 1993 David Bayley estimated in excess of two-thirds of sales over $5 million were to offshore Asian investors. An increasing number of exhibitions in Singapore were also contributing significantly to the sell down of hundreds of strata-titled residential and hotel apartments being marketed off-the-plans as part of Bayleys' major expansion into the central Auckland apartment market.
Offshore purchasers would also become sellers further down the track, an early example of which was John Bayley's sale of Singaporean-controlled NZ Land, whose portfolio included Hamilton's Centre Place Shopping Centre, to Kiwi Income Property Trust for close to $100 million in late 1994.
The introduction of commercial and industrial portfolio auctions was also a big game changer for Bayleys in the early 1990s, at a time when companies were looking to sell properties to reduce debt.
John and David Bayley and younger brother Chris, who'd joined the business in the late 1970s, set about approaching large corporates to sell the benefits of bundling multiple properties together in auction portfolios.
It didn't take long to land some big fish, starting with Brierley Investments and AMP portfolios in 1990 then followed in early 1991 by 50 Fletcher Challenge properties, 80 percent of which sold.
Then in three consecutive days of auctions in Auckland, Wellington and Christchurch in December 1992, 67 State Insurance and TAB-owned properties went under the hammer, mostly with leasebacks. All but three sold, along with 26 other properties owned by individual vendors. All up 90 properties sold, with new values established for a market that was on the turn again after a four-year decline.
Bayleys continued to market its national portfolios under a variety of names through the 90s before a decision was made in 1999 to establish a single brand name. Hence, Total Property became the new norm and would become indelibly linked with the sale of commercial and industrial property in New Zealand.
In the 24 years since its first publication in excess of 11,000 properties have been marketed across 130 issues of Total Property generating billions of dollars worth of sales for thousands of vendors.
Another big game changer for Bayleys in the 1990s was the expansion of its office network nationally, mostly using the franchise business model under the leadership of Trevor Stanaway.
In early 1991, Bayleys had just one office in Auckland's CBD employing just over 100 people. It was predominantly a commercial and industrial business with a small residential sales team focusing on the top end of the market, with David Rainbow and Dinah Macky, Graham and Pam Bayley's only daughter, two of its early superstars.
By 2003, Bayleys had 42 offices, with approximately 850 staff, as its commercial, residential and then rural agency reach expanded across New Zealand. Those numbers would more than double again over the next 20 years, with an office also established in Fiji in 2007.