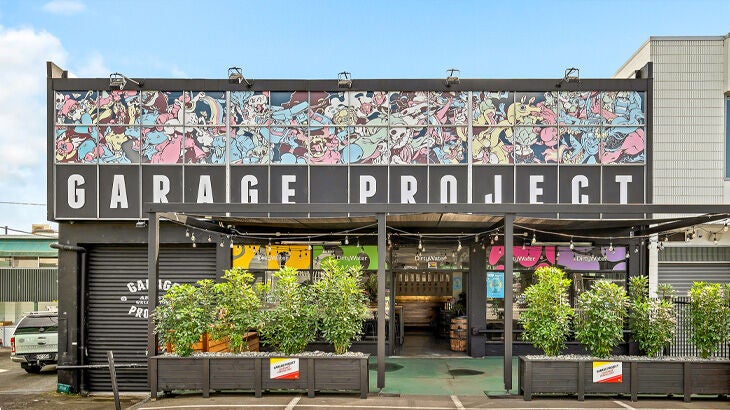 76 enquiries received from local investors, with 5 offers received. 357 New North Road, Kingsland
The Property • Extensively refurbished, well-presented 368sqm standalone building • 422sqm site, zoned Business - Mixed Use with 4 car parks • Retail/showroom, mezzanine office space and converted warehouse area with loading dock • National tenant, Garage Project, returning $78,959pa + GST (net) • Lease runs until 2025 with a further 4-year right of renewal and built-in rent reviews • Close to Kingsland train station
Quick Look • National Total Property marketing campaign – by deadline private treaty • Interest generated via Bayleys' databases, Total Property magazine, digital platforms • 76 enquiries received from local investors • 15 inspections • 5 offers received; 3 of which were unconditional • SOLD for $2,401,000 • Purchased by a neighbouring property owner
The Story The Auckland premises of popular award-winning craft brewer Garage Project in the sought-after city-fringe suburb of Kingsland, attracted strong interest from local buyers when taken to the market in October 2022.
Marketing agents James Were and Phil Haydock of Bayleys Auckland Central said the wider area is poised for significant commercial and residential growth making it a strategic location for savvy investors.
"Properties of this calibre are few and far between in Kingsland," said James.
"The building has been extensively refurbished and suits Garage Project's cellar door operation really well.
"The tenant credentials definitely played a role in the amount of interest we received."
Despite the market being somewhat muted currently given interest rate hikes and a more constrained lending environment, James said they were heartened by the number of unconditional offers they received – reflecting the strength of the lease and income returns.
"The property sold to a neighbouring owner who is adding to a growing commercial property portfolio in the area."
Vendor Comment Vendor representative Martyn Hamilton said he had total confidence in the Bayleys' team based on their extensive market knowledge and his former business dealings with them.
A seasoned property professional himself, Martyn explained that the New North Road property had been owned by a syndicate for a very long time, and with the various owners wanting to release capital to invest independently, he was tasked with facilitating the sale.
"Being a real estate licensee, I know who the best agents in any given area are and who will achieve the optimal result.
"Having worked a lot with James and Phil in the past, I knew that for this type of city fringe property, they were the best ones to handle the sale."
Martyn said as expected, James and Phil provided him with detailed feedback throughout the sales process and were completely professional in their approach.
"The owners of the property and I were well aware that the market has become increasingly difficult and we were concerned about the effect this could have on the outcome.
"Given the volatility of the current market I think James and Phil did incredibly well to achieve the result they did, although I had total confidence that they could."