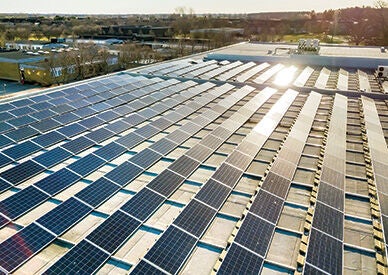 Sustainability principles and the pursuit of green certification is increasingly becoming best-practice in the industrial space with listed entities and large corporates leading the way.
Larger corporates have sustainability formalised in their environmental, social and governance (ESG) policies with quantifiable targets around building resilience, lowering carbon footprints, and becoming more sustainable overall.
"The jury's in, and sustainable buildings are healthier for the planet and the people working in them," says Scott Campbell, Bayleys national director industrial and logistics.
"Energy bills are reduced, productivity levels are higher and it's a tangible recruitment and retention tool for business owners.
"Leading developers report that in the industrial sector, tenants are now routinely requesting LED lighting, rooftop solar installations, tanks for rain water collection and re-use, and end-of-trip facilities to cater for active commuters.
"With national emission targets high on the built-environment agenda, there are also social conscience and bigger issues at play than simply financial benefit to an occupier."
While landlords may be open to implementing changes to existing buildings, the sustainability and green narrative comes into its own in new industrial developments.
New Green Star-certified industrial buildings produce fewer greenhouse gas emissions than standard buildings, and upfront costs to support green design can deliver compelling life cycle savings for the building.
Frasers Property Industrial, multi-national owner, developer and manager of industrial properties in Australia and Europe says its Green Star industrial facilities are saving tenants on average $1.11/sqm per year in operational savings when compared with competitors' noncertified warehouses.
In a 20,000sqm warehouse, that's a saving of around $24,000 per year in operational costs.
Via its website nzgbc.org.nz, there are identified pathways towards accreditation for industrial properties, along with supporting and compelling business cases.
The list of Green Star-certified industrial properties is growing, with developers keen to incorporate the latest technology to maximise operational performance and energy efficiency of its new buildings, and committing to carbon neutral developments.
• Developed by Goodman, the Courier Post Building in Highbrook, East Tamaki, Auckland attained the country's first 4 Green Star accreditation.
• Foodstuffs North Island's new centralised distribution centre near Auckland Airport – purpose-built to meet the future needs of New Zealand's largest co-operative with cutting-age sustainable design integrated into the build – has received a world-leading 6 Green Star - Office Built v3 Certified Rating from NZGBC.
• Fisher & Paykel Healthcare's new research, development and manufacturing facility in East Tamaki addresses the corporate's desire to ramp-up energy efficiency across lighting, heating and water consumption and has achieved a 5 Green Star rating.
• The first building to be constructed in the 56.7ha green-visioned Hautapu industrial campus bordering the Waikato Expressway near Cambridge – a manufacturing plant occupied by Architectural Glass Products and APL Manufacturing – has attained a 5 Green Star NZ v3 Industrial Design rating.
A business' green workplace targets and actions need to be quantifiable, stresses Campbell, as "greenwashing" or inauthenticity can derail corporate brand and public perception.
"The science shows that we must move towards a less-polluting, lower carbon economy with public pressure and legislation forcing a change in attitude and actions," says Campbell.
"It starts with the intention to do better, followed up with a viable and verifiable plan".